<!== Packaging Machinery ==> <!== Packaging Machinery ==>
Collischan series of WeighFillers are offering a reliable solution for accurate feeding, mixing, batching and dozing of powders and granulates , tablest, capsules, shredded meat, cheese, and a variety of other products.
Since 1933 Collischan has been engaged in automatic weighing technology. The legendary "Praezi-Blitz" has been equipped with a mechanical weighing system.
Following the development of electronic components, weighing systems and their control fundamentally changed.
Collischan has always accepted such challenges and integrated state-of-the-art technology into it's production program. Consequently, Collischan was already able to offer weigh fillers and check weighers with micro processor control in 1980.
Actually Collischan manufacturing program consists of:
Check Weighers to be integrated into packaging lines in the pharmaceutical, cosmetic, food, frozen and tinned food industry.
Weigh Fillers for powder, granules and small solid products.
Assorting Equipment for leveling of disproportionate products, such as fish, chicken parts or meat portions to meet a predefined total weight.
Counting Machines for tablets, capsules, dragees and the like.
Packaging Lines complete with feeding, filling and closing equipment, labeling, cartoning, controlling and multi-layer packaging of various products and receptacles.
Special Machinery in the field of check weighing and weigh filling..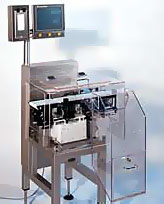 High Speed Automatic Checkweigher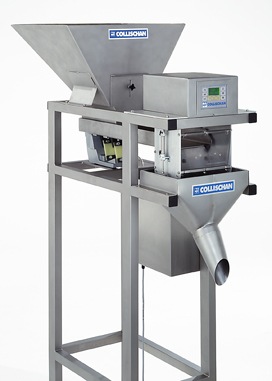 WeighFiller